Veterinary Cold Laser Therapy for Cats & Dogs
Cold laser therapy is an innovative therapeutic treatment which has in recent years become more widely used as veterinarians have discovered the extent to which it can be beneficial in helping pets recover from illness and injury.
Several conditions have been shown to improve with the use of laser therapy including muscle and joint pain, arthritis symptoms, and muscle spasms.
Cold laser therapy for pets can be used as part of a multimodal treatment plan to help with pain management, inflammation reduction, and healing.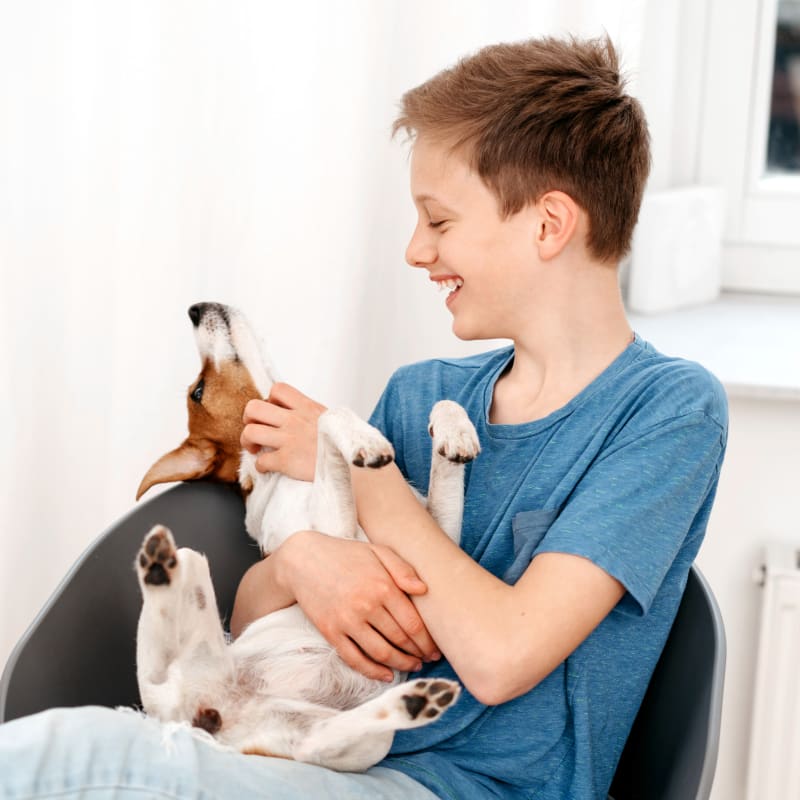 The Cold Laser Therapy Treatment Process
Cold laser therapy treatment involves the movement of a handheld laser wand back and forth over the part of your pet's body focusing on the areas affected by injury.
Despite the name, your pet will feel warmth throughout their treatment, allowing them to stay relaxed and comfortable. Cold laser therapy sessions at our animal hospital typically last for a session.
The duration of treatment for your pet will be dependent on their unique veterinary care requirements.
Applications of Veterinary Laser Therapy
Veterinary cold laser therapy for dogs and cats can be used for a variety of therapeutic purposes and is highly effective when combined with traditional medications and other traditional veterinary treatments. 
Laser therapy promotes circulation and encourages cell regeneration which may benefit the following conditions:
Inflammatory Bowel Disease
Osteoarthritis
Lick Granuloma
Dental Procedures
Wounds
Bone Fractures
Strains & Sprains
Post-Surgical Recovery
Degenerative Joint Disease
Inflammation
Advantages of Cold Laser Therapy
Therapeutic laser treatments offer a wide range of benefits to your pet. When a pet receives low-intensity laser treatment, the specific wavelengths of the light transform the physiology of their tissues and cells causing the regenerative changes that we see which can result in:
Increases wound healing
Accelerates mitochondrial cell metabolism
Reduces inflammation and associated pain
Enhances neovascularization
Increases blood perfusion
Reduces edema (swelling)
Encourages bone healing